by celia
Sept. 28
Luckey's Club Cigar Store
Eugene, OR
Boy, was I excited to get to Eugene. I spent some time there when I was younger and I LOVED it, plus I have an old friend there that I hadn't seen in years. We pulled right up to Luckey's, the oldest bar in Eugene, and the folks there were super nice. Things run a little late in this sleepy little college town, so we had plenty of time to set up our merch and Mike's screen before
The Dead Americans
showed up. I was so happy to meet Zak after all the emails we had exchanged, and he was just as nice as he seems on the world wide web. He also brought his dad, Mike, who plays the
"Louisiana Saxophone". He sat in on a couple numbers with Celia's Big Rock Band, much to the delight of all of us. Plus, the Dead Americans brought out a SWEET crowd for us to play to, and they wereDIGGING it! The Dead Americans played a SMOKIN set, and FIRE DOG rocked out last, completing a trilogy of heartfelt and lusty soul ROCK! Thanks a million for loaning us gear, John and Josh! I particularly loved playing bass through Josh's SWEET amp. The Dead Americans RULE and I can't wait to collaborate again.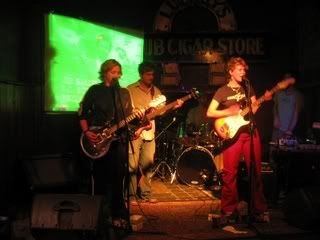 Celia's Big Rock Band at Luckey's

We stayed up late over at my friend Jessi's house and kept her up. Good thing she and Sven are so cool. Mark and Rebecca and Dan Bob left early the next morning and Mike and I stayed on in Eugene. Melinda and Brandon and Great Cate drove on up to the Oregon Dunes and they had a blast. I don't remember much about Friday because I was resting almost all day. I woke Mike up a few times and then I'd find him sleeping somewhere else. I think we were pretty tired. Jessi and Sven threw a party for us Friday night and I loved it. They also put
EVERYBODY in the whole crew up and acted like they wouldn't mind if we stayed forever. Then they drove Mike and I to Portland the next day after showing us around Eugene AND taking us out for Yumm Bowls. What sweet people. You'll never get rid of me, Jessi.

Sept. 28
The Know
Portland OR


For real, folks, it was unbelievable how many JAYHAWKS were at this show! Long-lost friends and people I thought I'd never see again! Hi EVERYBODY! What a great little bar - just like Kansas! Thanks so much for coming out and supporting us! The local band was my friend and fellow Kansan Noah Earle's brother's band, Keep Your Fork, There's Pie. Oh, how I wish I could give you a link for them. What a special, hilarious treat for all of us! And Mary Jo used to be in a band, The Roundups, that I shared a bill with sometimes back in Lawrence! You know what that is. . .it's a LOVE-O-RAMA!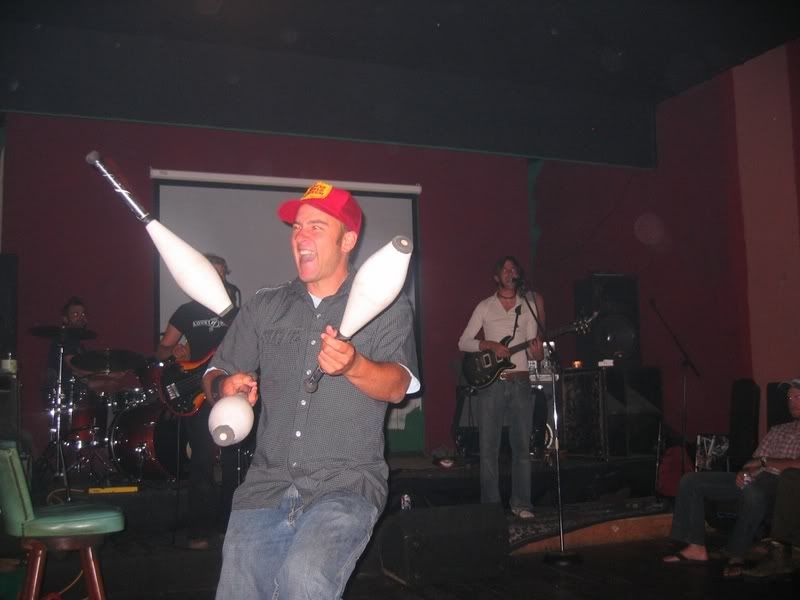 This is the guy from Keep Your Fork, There's Pie juggling during FIRE DOG's set. FU-UN! Look how Brandon Manitoba's eyes are shining behind the drumset!

Oct. 1
Cozmic Pizza
Eugene OR

Back to Eugene. I remembered thinking, a dozen years ago, that Eugene was this really BIG city. We got off the highway and pulled into Eugene with no real idea how to find this place. So we sidled up to a guy by the road and he says, "oh, it's right down there a block" and points right at it, then says, "hey, are you the ones who emailed me on Willamette Valley Music Scene?" And I realized, a dozen years later, that Eugene is a very small town. This was a nice gig. I really liked the pizza. Some midwives came to the movie, and we were all delighted to have our friend from St. Louis, Willy Zep, sit in with his hand drums that night! Mark and I both enjoyed playing on the BIG STAGE, and I think Mike liked the BIG SCREEN afterall, too. Of course, we went back over to Sven and Jessi's and got to spend some more time with them before heading out to Crater Lake the next day.

Wizard Island at Crater Lake.