by celia

It was cold at Crater Lake. We'd considered camping there originally but we arrived at dusk and, though the view was beautiful, the campgrounds were closed for the season. We drove on south for a LONG TIME to find a campground. After breakfast and some map-reading, we headed on down
US 199
into the spectacular
Jedediah Smith Redwoods State Park
, where we stayed for the next 3 days and nights.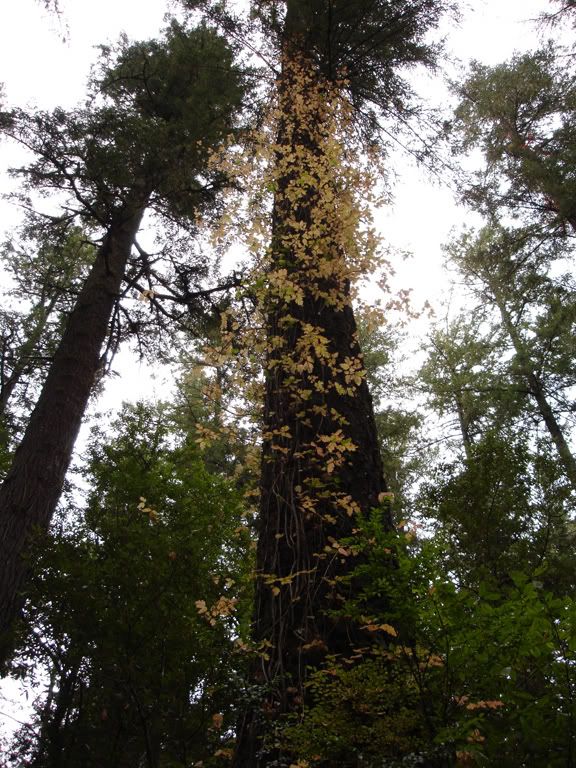 That's a big tree.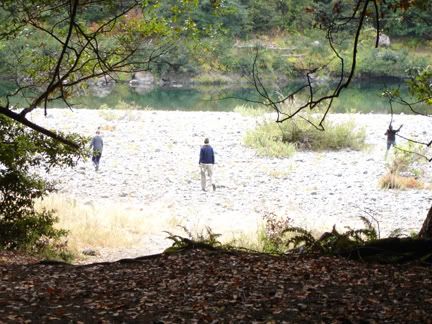 Our little river beach home.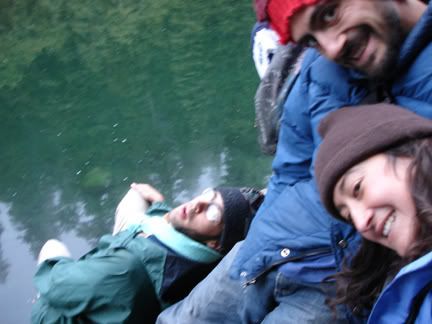 Almost got us all.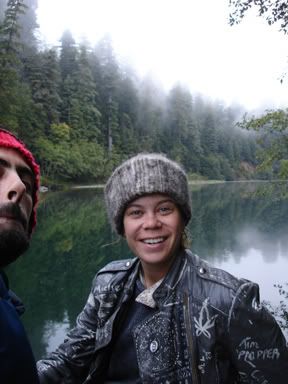 There I am!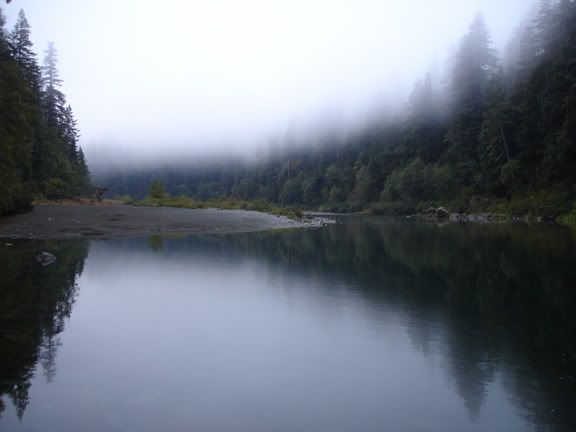 Kind of mist-ical, huh?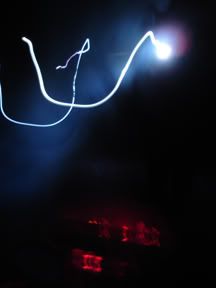 This is our little cooking fire and my little headlamp that I used everyday of tour.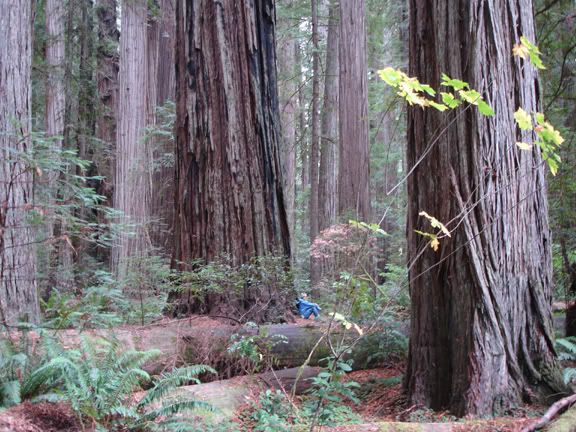 There's a little tiny person way over there. Hi, Rebecca!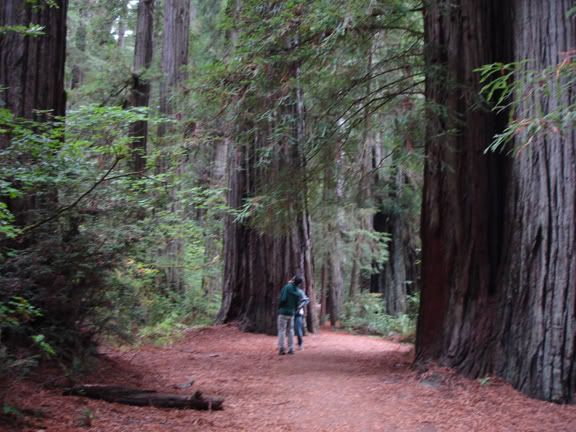 Here's Mike and Mark.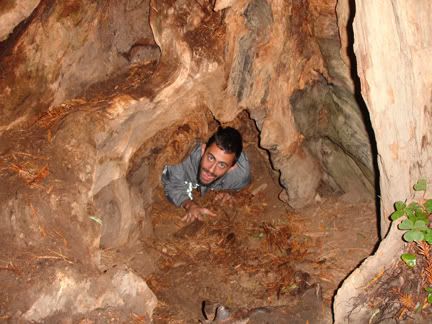 Mike in the tree-cave.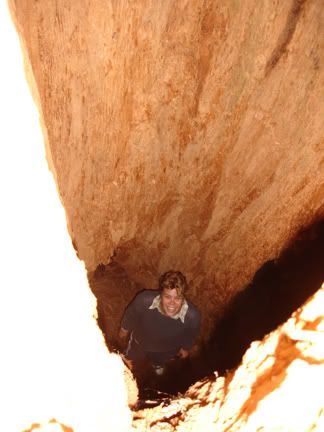 Different tree cave.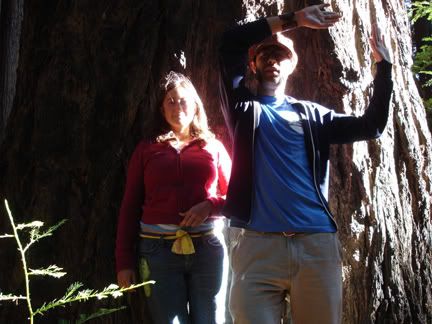 Mark and Rebecca.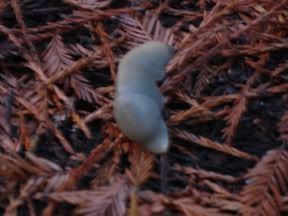 Banana slug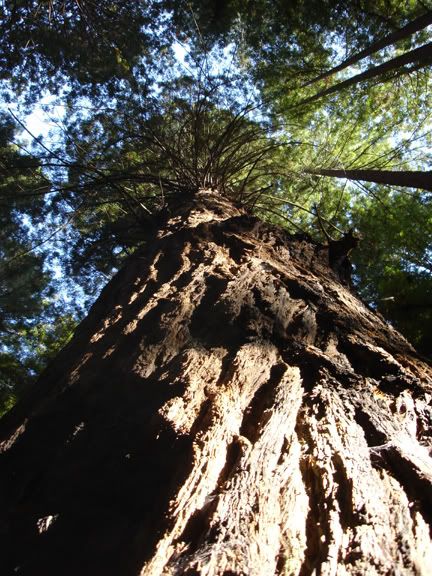 Sequoia Sempervirens
Oct. 5
Kimo's
San Francisco, CA
We came out of the redwoods truly refreshed and ready for the second half of tour. We stopped off in Mendocino for one night and also had lunch at
Japhy's
in Arcata with Mark's friend Danjo. Maybe we were a little disoriented, because we were very surprised to hear from our friend Joey in SF that we were listed in the paper for a gig that night at Kimo's! We called and explained that somehow we'd overlooked this booking altogether and hadn't even sent posters, but they said to come on by and do the show. So we did, and luckily some of our friends in town came out with some of their friends and we had a splendid night! Thanks, Harlowe, for the friendliness and the DANCING, and thanks, Mikal, for your music! We made some friends at Kimo's, and THAT'S a LOVE-O-RAMA!
This is how SF parties.
What luck we hit upon in SF. The next day found us enjoying the
(hardly) Strictly Bluegrass
festival in beautiful
Golden Gate Park
with our new friends Scott Clark, Jillian, and Mikal Shapiro!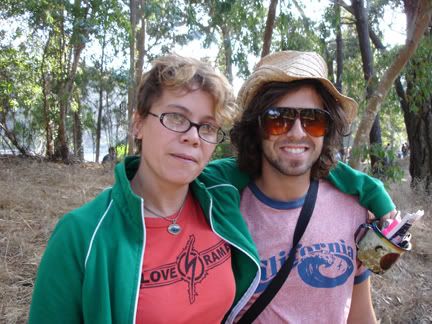 My friend Joey, aka
Pleasuremaker
, and me in the park, enjoying the festivities.
Oct. 8
The Riptide
San Francisco, CA
What a special show! Our friend
Lyndsey Scott
really saved the day by loaning us wheels to get everything together for the show. Our new friend Scott Clark brought the drum set for the show, and Herb and Jill had just arrived from St. Louis, ready to ROCK! David at the Riptide was so accommodating right from the start, and even bought a red LOVE-O-RAMA shirt and sported it all night. (Lookin FINE, David!)
Mikal Shapiro and Scott Clark
played an knock-out set between Celia's Big Rock Band and FIRE DOG, and our jukebox hero
Cree Rider
topped off the show with a set that he designed expressly for the LOVE-O-RAMA! What a great night! Lots of dancing and lots of L-O-V-E! Thanks for buying those shirts, David, and thanks to the guy that shared his lasagne with me when it was all over. And huge heartfelt thanks to Mikal and Scott Clark for being the best new friends a Love-O-Rama could ever hope for!
We headed down the coast to Palo Alto where our friend Jo lives and she took us to the
Fitzgerald Marine Reserve
, where we checked out some sea stars, sea anemone, all manner of mollusks, and many other unusual marine lifeforms.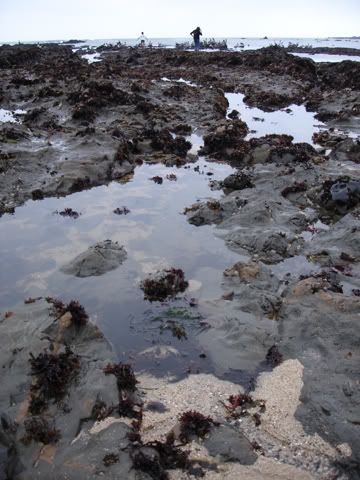 Tide pools.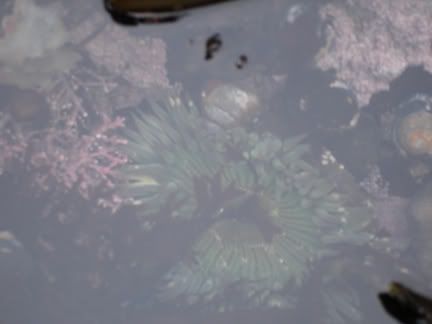 a little Sea Anemone.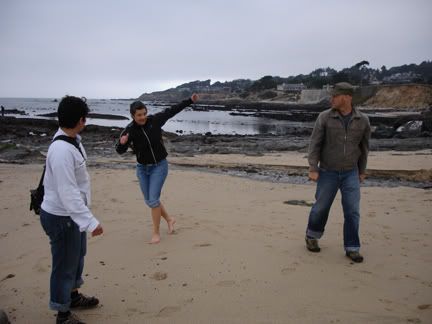 Unusual lifeforms. (Jill, Jo, and John)
Jo then took us back to her cute little house in cute little Palo Alto where she and her roommate, Gina, hosted a delightful dinner party just for us. Need I even say it? It was a LOVE-O-RAMA!
Oct. 11
E3 Playhouse
Santa Cruz, CA
We got to Santa Cruz a day early so we could screen some more shirts. This was an extra special stop on tour because Santa Cruz is home to one of LOVE-O-RAMA's cherished sponsors,
Powersquid
, and my personal friend, inventor
Chris Hawker
and his team. Chris helped me to put together many ideas that we put into practice on this tour, and bringing LOVE-O-RAMA to his town was, to me, the manifestation of a dream realized. We had so much fun at the E3 Playhouse. Wes' mission of "Education, Entertainment, and Eatery" made for a perfect fit with our show, and we enjoyed our salmon dinners just as much as we enjoyed Wes' pro gear and solid sound system! Cree Rider came down from SF to play the closing set, and it was a real winner, complete with me sitting in on the drums and Mark singing back-ups with Cree and Joe! What a night! My heart swelled with pride the next morning when Chris said, "Good for you for creating something that you LOVE." Well, I love YOU,
Chris
and
Sommer
and
Tanner
, and thanks for the inspiration!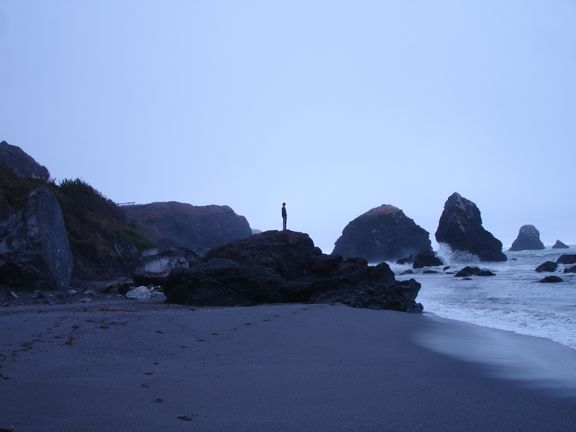 Trinidad State Beach