by celia
Oct. 18
Lestat's
San Diego, CA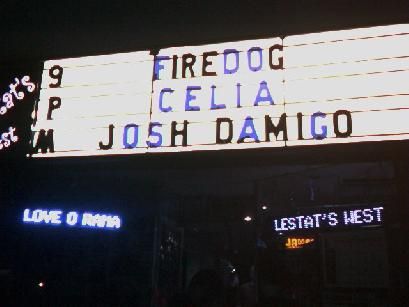 LA was a great big adventure. It, in fact, did me in. I woke up the morning after the Fais Dodo show with strep throat. Special thanks to our LOVE-O-RAMA physician for your expert advice and treatment! I was at least better enough to sing at Lestat's for our last gig on the west coast.



Josh Damigo, our local act, was so enthusiastic and so were his fans! Great to meet you, Josh!

Also, take a minute to meet our soundman, the great Louie Brazier!

We drove all night to get to Tucson because we really wanted to get some rest before the show the next day. Our friend Archer greeted us just after dawn and fixed us a fabulous breakfast before putting us all to bed!


Oct. 19
Rainbow Planet
Tucson AZ

Well, the key to a LOVE-O-RAMA is, of course, spreading the love. And the Planet Coffeehouse, though tiny, was full of love that night. Rebecca's uncle came to watch the movie with a friend of his, and Archer was just about the music-lovin-est audience yet. We got to spend all morning and into the afternoon the next day enjoying the sunshine in Tucson. Archer fixed us another wonderful meal and we headed out for Phoenix a little later.

Oct. 20
Naucalli - House of the Four Directions
Phoenix AZ

We arrived to the smell of menudo cooking on a pot outside this indigenous peoples' center in Phoenix. The place was ours for the night. We set up the screen and p.a. outdoors because the weather was so nice, and we were positively DELIGHTED to see so many folks out! This community center has quite a community! The folks really loved the movie and they stayed late while Mark and I played music under a clear, star-studded sky. Some of Rebecca's family came out and gave her some extra special support and refreshment! We stayed at Antonio and Theresa's (thanks!) and Antonio made us some delicious omelets in the morning. Rebecca's family came by and we spent some time playing with the kids and visiting before we headed out for Gallup, NM.