by celia

We drove up the Yellowstone Valley to the beautiful little cow town, Livingston, MT, where we stopped at the Dusty Boots for a late lunch. Then Mark and Rebecca bought me a whole bag of jellybeans that I enjoyed on the way to Missoula, where we had some nice lentils when we got to Elizabeth, Molly, and Nabil's house. Thursday was cold and wet, so after Mark and I screened some t-shirts, we spent most of the afternoon at Butterfly Herbs, sippin tea and catching up with the inner-web. We also caught up with Purrbot, our local act. The show was GREAT, movie and all; what a nice room, and a really supportive and friendly crowd. Special thanks to Damon for being so patient and persistent with the sound. I loved the music of Purrbot and Screech Owl, and I loved the Moose Drool.

The next morning, we drove out of Missoula on Scenic Highway 12 over the Lolo Pass and I thought the mountains would never stop. This mountain range is THICK. After (no kidding) about 3 hours of driving through mountains, the road opened up into a spectacular valley, and, though we were in Idaho by this time, I can certainly see why they call it Big Sky Country!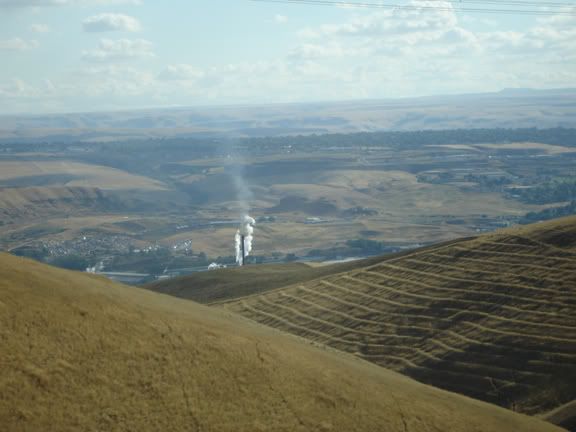 View of the valley from the Palouse.

Then we started driving up 195 on the The Spiral Highway, also known as
the Lewiston Grade. All the sudden, the mountains disappeared behind us and we were in the midst of these gigantic, yellow, grassy, humps!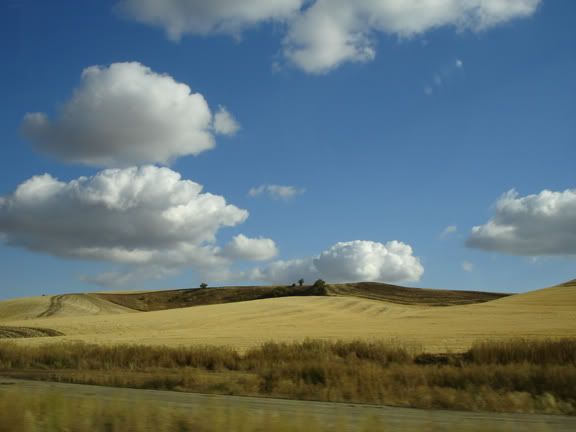 I found out later that this formation, called The Palouse, produces 90% of the U.S.'s lentils and peas!

Sept. 21
One World Cafe
Moscow, ID

Well, things were looking a little grim by the time we arrived at this bustling coffeeshop in this cute little town on the Palouse. They had no P.A. for us and Mark was really feeling sick. I didn't want to abandon the show quite yet, but it was 5 pm and music stores were closing soon, not to mention that we might wind up spending more to rent a p.a. than we'd make on this night. Luckily, I have a friend who just played there a month before, and she hipped me to the guy with the DEAL! Thanks, Molly Irene! And, for SURE, thanks a MILLION, Guitarist's Friend, for the SWEET DEAL! Good thing it all worked out, because this show was a real jewel. We met so many nice people and the cafe provided us with dinner that night and breakfast AND lunch the next day! What a bonus! I also particularly enjoyed the special pumpkin roll brought to me especially by my personal friend Kristin, who is also a MAJOR Love-O-Rama supporter.

Thanks for putting us up in such delightful style, Kristin! Next time, we'll stay a little longer!